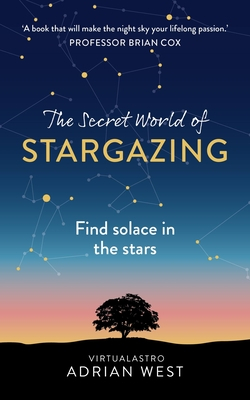 'A book that will make the night sky your lifelong passion. An invitation to immerse yourself in the nature around you and the universe beyond.' - Professor Brian Cox
The Secret World of Stargazing is the ultimate astronomy book to set you on your epic journey around the cosmos - it's a simple guide to the skies and makes stargazing fun, easy and enjoyable for all - absolutely no equipment is required!
Adrian West, AKA the internet sensation VirtualAstro, will take you through the seasons, showing you exactly what you can spot in the sky throughout the year, whether you're in your back garden or sitting on an exotic beach somewhere! While you're learning how to spot constellations, meteors and comets, you will be switching off your busy mind, sitting still in nature and paying attention to the small details that make up the big picture of life.
You'll finish reading this beautiful book and come away with a sense of grounding, connection, knowledge and a whole new appreciation of the sky above and the world outside your own - it will soothe your soul.
'An excellent, readable, bright guide to the night sky.' - Dara O'Briain
'A superb introduction to astronomy.' - Chris Packham

Langue anglaise | 224 pages | Sortie : 26 avril 2022 | ISBN : 9781529382075
En vous inscrivant à Livraddict, vous pourrez partager vos chroniques de blog dans cette zone ! M'inscrire !