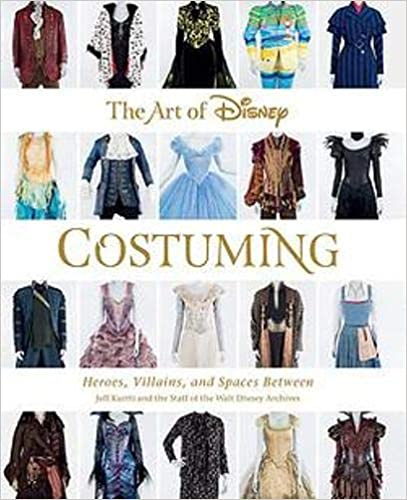 Celebrate the imagination, passion, and attention to detail invested in each Disney costume within this gorgeous coffee table book!
The elegant and adventurous array of dresses, uniforms, and other attire is a feast for the eyes and a fascinating examination of pure craft and of the brilliant, creative minds behind it. The collection begins with a summation of the costumes created for Disney animation, early live action, and television, along with show wardrobes sported at the Disney Parks by Audio-Animatronics figures and Cast Members.
The next section details a timeless case study: Cinderella's ball gown. A diverse group of designers has been called upon over the years to address and improvise the creative and practical needs each time the fairy tale Cinderella has been reimagined. Each project has brought with it inherent cultural challenges when bringing a familiar and beloved tale to life again and again, and all have yielded stunning and distinct results. At last, the full galleries (organized by the character archetypes of heroes and villains, and those complex, always interesting, "spaces between") showcase costumes across more than thirty Disney films.
At each turn, this volume offers a one-of-a-kind backstage view of remarkable works of art, and it inspires a true appreciation for the highly skilled and talented costumers who created them.

Langue anglaise | 176 pages | ISBN : 9781484741221
En vous inscrivant à Livraddict, vous pourrez partager vos chroniques de blog dans cette zone ! M'inscrire !