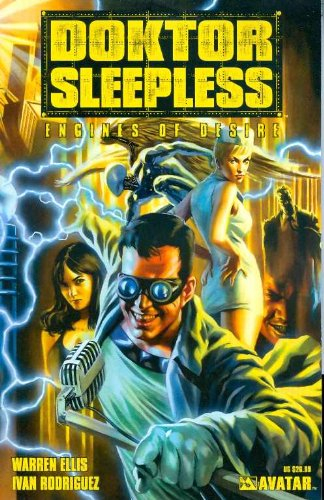 When the promise of a bright technological future is corrupted by conspiratorial authorities, a mad scientist-turned-cultural icon named Doktor Sleepless leads a guerilla revolution.
Where is the future we were promised? Doktor Sleepless, a renegade mad scientist recently back from the supposed dead, will not rest until he tears the city of Heavenside apart in search of that answer. Aided by a sultry and murderous assistant known only as Nurse, he's outraged that the widescale application of his science has not advanced society, but been abused and twisted. From his tower above, he broadcasts intrigue and revolution to a populace of beautiful Shrieky Girls, angry Grinders, and the conspiratorial authorities. Only Sing Watson, his old flame, truly suspects how dangerous things are about to get! The good Doktor has just the prescription for all of society's ills... whether you want it or not! Warren Ellis presents DOKTOR SLEEPLESS, the thematic successor to his critically acclaimed TRANSMETROPOLITAN.
Titre original : Doktor Sleepless, book 1 : Engines of Desire

Langue anglaise | 216 pages | Sortie : 28 octobre 2004 | ISBN : 9781592910540
En vous inscrivant à Livraddict, vous pourrez partager vos chroniques de blog dans cette zone ! M'inscrire !